La Firma Russin Vecchi & Heredia Bonetti, representada por sus socios, Licenciado Luis Heredia Valenzuela y Doctor José Fco. Maldonado Stark; organizó por tercera ocasión el conversatorio-recepción en el marco del "IV Band of Brothers Cigar Trip", organizado por la "The Society of International Business Fellows –SIBF" (Sociedad Internacional de Hombres de Negocios) de los Estados Unidos de América y las reconocidas familias tabacaleras Fuente y Newman; el cual tuvo lugar el pasado viernes 19 de febrero del corriente, en el Hostal Nicolás de Ovando, de esta ciudad.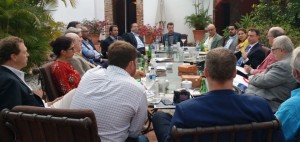 El Lic. Heredia Valenzuela fue responsable de la organización del evento en representación de la Firma, el cual tuvo como invitados especiales, entre otros, al Doctor Jean Alain Rodríguez y la Licenciada Pamela Herrero, Director Ejecutivo y Subgerente Nuevos Negocios, respectivamente, del Centro de Exportación e Inversión de la República Dominicana (CEI-RD).
Dicha actividad se enmarca dentro de la política de la Firma RVHB fundada hace 47 años, para la atracción de inversión extranjera y nuevos negocios para el país.