Russin Vecchi & Heredia Bonetti Firm, with its Continuing Education Department and with collaboration of Research Center and Study of Business Law (Centro de Investigación y Estudio de Derecho Empresarial – CEDEMPRESA), the Specialized Institute of Higher Studies in Business Law (Instituto Especializado de Estudios Superiores de Derecho Empresarial – IDEMPRESA ), Interamerican Lawers Federation (Federación Interamericana de Abogados – FIA) and APEC University (Universidad APEC – UNAPEC ), held his usual monthly legal colloquium, in this occasion, with the subject : "Negotiation and Mediation of Public Conflicts " .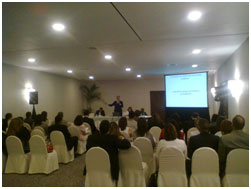 Our expositor guests were Dr. Nelson Espinal Báez, Associate MIT-Harvard Public Disputes Program At Harvard Law School, lawyer expert of the matter, together with Dr. Román Medina Diplan, Partner of our Firm. In the discussion group, not only the concepts of negotiation and mediation were defined; also, the main obstacles that all mediation process and neuralgic points can confront were analyzed, while offering some possible solutions to deal constructively these methods in effective conflict resolution, emphasizing that the main goal of any mediation process should be "the Implementation of the Agreement."
At the beginning of the colloquium, a minute of silence was kept in memory of Dr. Luis Heredia Bonetti, ideologist of the initiative to celebrate a Legal Colloquium every month, which encouraged permanently its continuity for over thirty years. At the end of the activity was informed that 50 FIA Congress, to be held in Puerto Rico, in June, will carry the name of Luis Heredia Bonetti, recognizing the many contributions that the recently deceased Dominican lawyer made with an international federation. The event celebrated in the Ambassador Hotel, counted with the assistance of lawyers, members of a mediation unit of diverse governmental institutions, clients and Firm associates.