Welcome to our website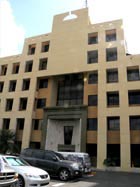 Russin Vecchi & Heredia Bonetti is a law firm pioneer in the Dominican Republic in offering specialized services to a business community interested in the global economy, with the highest international standards of services, probity and professional excellence.
We are also one of the most recognized and experienced law offices, dedicated to facilitate the establishment of foreign investments with a well earned reputation as a good corporate citizen for our contribution to the improvement of the business climate and our support to the continuing education of professionals of the Law.

Georges Santoni Recio / Managing Partner
on investing in the Dominican Republic.